We Chris put our tree up in late November this year. When he put it up, this is what it looked like...
The top part of the lights were burned out. :( It didn't survive a Texas summer in the attic. I'm actually kind of impressed the other lights still work after several ridiculous hot summers in the attic.
Anyways...we decided we should do something about this sad tree. We Chris strung a single strand of lights in the top part of the tree and it was good as new! It looks perfect in person, but the new lights photograph differently. Very strange.
We went a little sparse on the ornaments this year. I had almost decided not to dress the tree at all because it was almost two weeks into December and I still hadn't put anything on it. Buuut, we are hosting Christmas this year and our nephews will be here and I know that's special for them, so I did!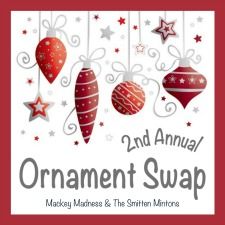 I was excited to get paired with
Anna
, a fellow nurse who lives in Idaho.
I loved the packaging she sent the ornament in!
And inside was this gem...
How cute is he?!
He's hanging front and center of our Christmas tree!
Thank you Anna!!
You can see the ornament I made her
here
.
I love Christmas time! :)